Knight Services Enterprise Sdn Bhd
(913709-A)
GST No.: 000500465664
38, Jalan Perniagaan Setia 6,
Taman Perniagaan Setia,
81100 Johor Bahru,
Johor, Malaysia.
+607-550 0099
+6010-931 8995
(Kenny Wong)
Falcon
Auto Gate --- Genius ---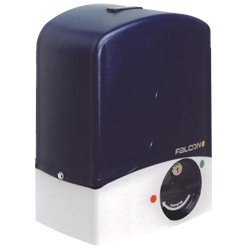 Model : Falcon gearmotors for sliding gates
The guardian of your territory
FALCON M5 - M8 - M424 are non-reversible electro-mechanical gearmotors made to last long.
The gearmotor body in aluminium painted with polyester powders and the protective housing in ABS make it a pleasing, solid and safe product.
The practical release system, allows be spottedimmediately and to be activated only by a lock with a personalised key.
Magnetic limit-switch designed by Genius, entirely protected.
The gearmotors have a pre-wired board with tran-sparent protection and programming push-buttons outside the cover, as well as a rotating board-support to facilitate access during programming.
The importance of precision and safety
The use of the encoder (optional) gives the exact position of the gate during its entire movement and, in case of impact, leaf movement can be reversed.
The ¡°C¡± versions, with Genius control board, have easy-to-understand on-display programming. A set of functions such as the electronic clutch, the slow-downs, braking, and separate inputs for accessories, put it at the top of the market.
Field of application
Available in several versions: 230V / 115V / 24V
Models for sliding gates with weight up to 800 kg.
The 24V version for intensive use can be supplied (optional) with integrated buffer batteries.
The 24V version with built-in control board, included the encoder.