Knight Services Enterprise Sdn Bhd
(913709-A)
GST No.: 000500465664
38, Jalan Perniagaan Setia 6,
Taman Perniagaan Setia,
81100 Johor Bahru,
Johor, Malaysia.
+607-550 0099
+6010-931 8995
(Kenny Wong)
SWDEA302
Auto Gate --- DEA ---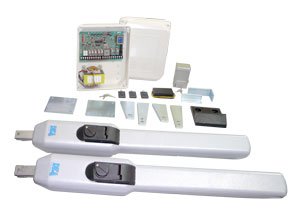 Model : SWDEA302
Wing 302 arm type swing system
Description :
WING 302 the electromechanical ram reliable and powerful over time. The electromechanical automatic does not require periodic maintenance or internal adjustments. The installation easy and fast does not cause any modification to the gate structure.
Features :
Quick and silent
Compact and strong
Greased soaked motor
230V AC powered
Suitable foe leaf up to 2m long
Simple unlocking system by key
Incorporated condenser
Easy to install