Knight Services Enterprise Sdn Bhd
(913709-A)
GST No.: 000500465664
38, Jalan Perniagaan Setia 6,
Taman Perniagaan Setia,
81100 Johor Bahru,
Johor, Malaysia.
+607-550 0099
+6010-931 8995
(Kenny Wong)
SLDEA1500 / SLDEA2000
Auto Gate --- DEA ---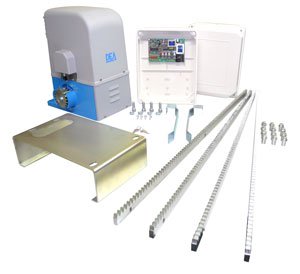 Model : SLDEA1500
GULLIVER series industrial sliding system
Description :
GULLIVER 1500 is the automation for sliding gates up to 1500 kg to 2000kg , where an intensive duty is required. The sturdiness and the choice of the details are guarantee of reliability in time. Thank to the mechanical or electronic clutch, the safety is assured.
The control board is integrated in the case , making so still easier so still easier the already quick installation of Gulliver 1500. Clear choice for imported quality and great performance.
Features :
Silent
Greased soaked motor
230V AC powered
Integrated limit switch
Simple unlocking system by key

Mechanical clutch with Anti-crushing safety

Superior performance fine tune to yield motor maximum performance

Coded remote control allow 30 to 50 meter transmission

Electromechanical break for more immediate stop

Designed for heavy duty