Knight Services Enterprise Sdn Bhd
(913709-A)
GST No.: 000500465664
38, Jalan Perniagaan Setia 6,
Taman Perniagaan Setia,
81100 Johor Bahru,
Johor, Malaysia.
+607-550 0099
+6010-931 8995
(Kenny Wong)
SW200P
Auto Gate --- MAG ---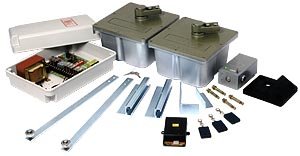 Model : SW200P
MAG swing gate system
Description:
MAG is the brand of confidence and highest standard in its class. It s highly sophisticated components have been researched and rigorously tested in our tough Malaysian conditions - heavy rain, lightning storms, high temperature and humidity. MAG passed these tests with flying colors.
MAG is a time proven performance for 20 years. Our stringent quality control guarantees the consistency and reliability of MAG swing gate system. MAG is best value for your money and a far better choice in autogate system.
Special feature:
Revolutionary - 8 springs anti crush (8-SAC) clutch mechanism . This unique slip-clutch mechanism automatically suspends gate¡¯s movement if it encounters any obstacle such as vehicle, human and animal in its traveling path while still be able to maintain smooth and powerful gate movement.

This is very important to protect the safety of user and avoid the motor to overload itself (longer life time for motor). Also available is SW200P2 - premium version that uses a more advanced controller for better protection against lightning and higher performance (up to 5 amp).
Standard feature:
Fast and silent - 90¡ă opening at 8 to 10 sec
Gearbox fully submerged in oil bath for longer mechanical life span
Coded remote control allow 30 to 50 meter transmission
Gate leaf movement with cushioning - avoid loud banging sound when opening or closing
Water proof and rust resistance alloy
Max gate weight is 200 kg per leaf